La Gymnastique autour du monde …
7th edition of the RG International Tournament AZUR from 2020, july 4 to 5
invitation, version Française
invitation, english version
invitation, russian version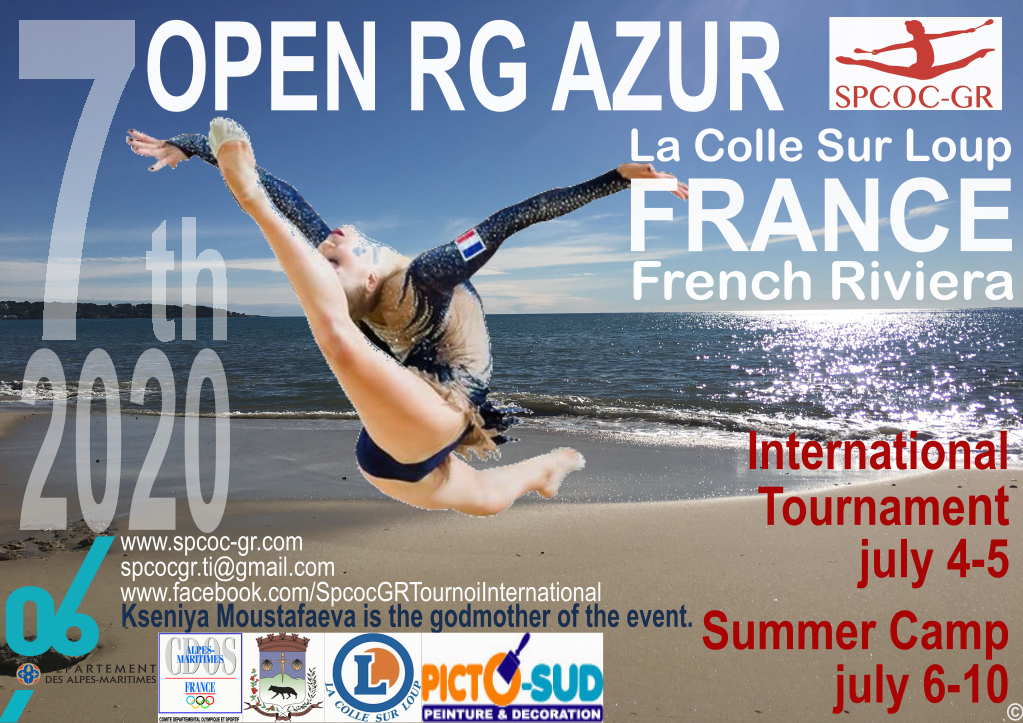 ---
6th edition of the RG International Tournament AZUR from 2019, july 6 to 7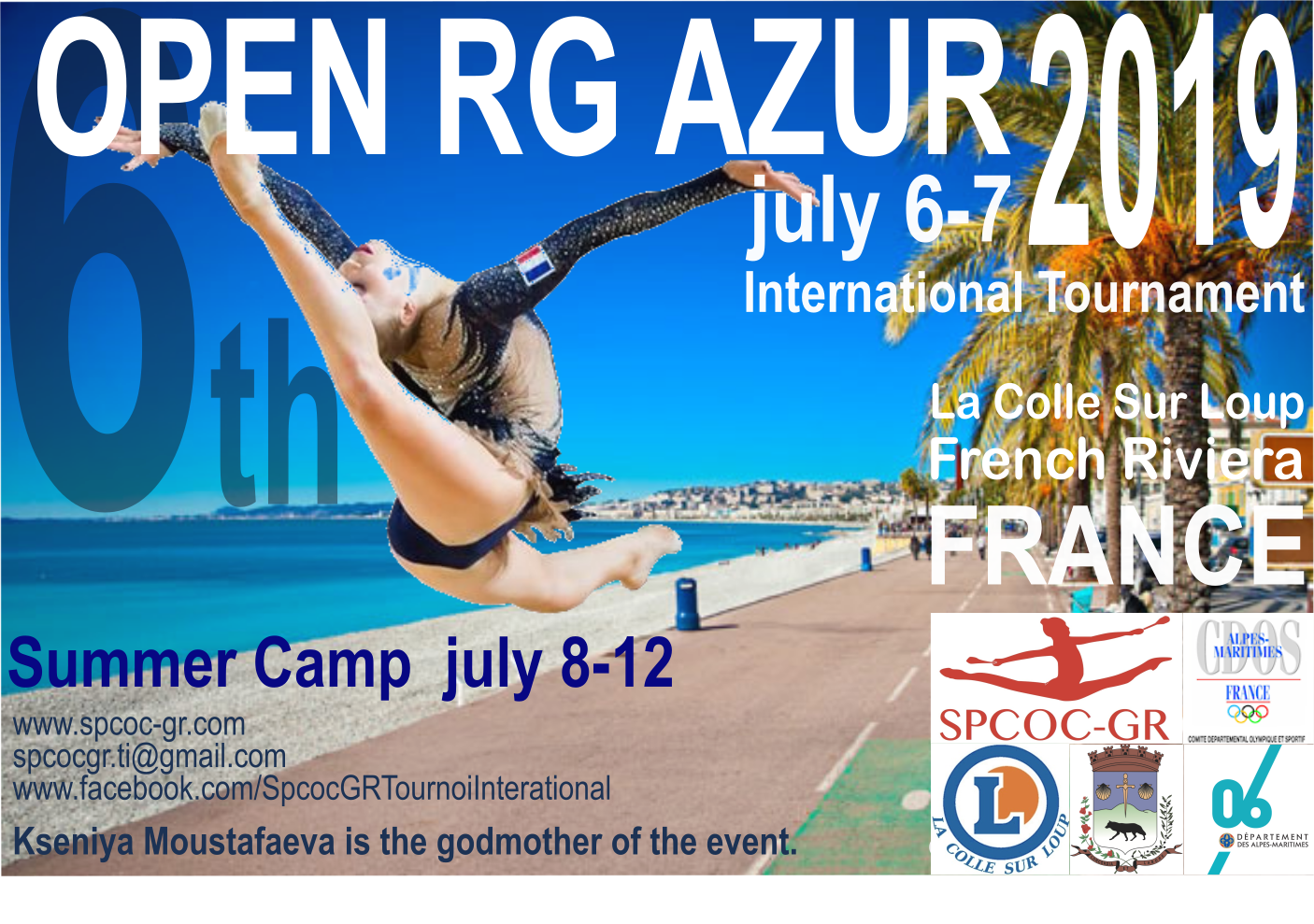 ---
5th edition of the RG International Tournament AZUR from 29/6 to 1st/7 2018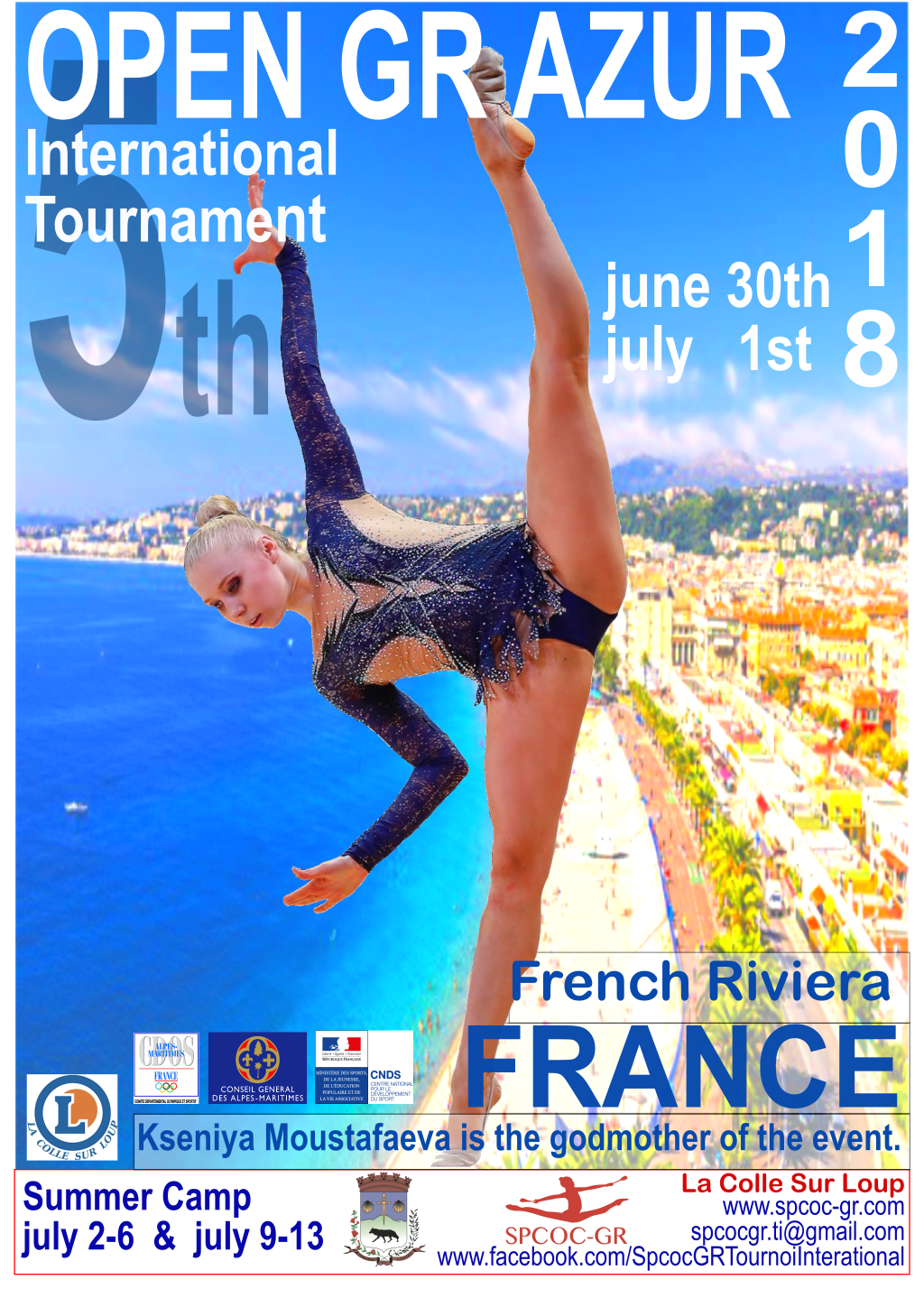 ACCOMMODATION :
Belambra  clubs de Saint-Paul-de-Vence "Les Oliviers" 500m
[FULL FROM JUNE 29 TO JULY 1st]
A comfortable club in a relaxing and green setting, in the heart of a 20-hectare pine forest, a few kilometers from the beach and less than 15 km from Nice airport.
Apartments for 2 to 6 people for rent or ½ pension or full board.
www.belambra.fr/club-la-colle-sur-loup-les-terrasses-de-saint-paul-de-vence/ete
Tél:  +33 4 93 32 96 96  ,   Réservation : seminaire.lesoliviers@belambra.fr
MARC HELLY , Hôtel ***   2 minutes by car
A Provencal style with a warm and family atmosphere, air-conditioned, modern and cozy, 15 minutes from the airport, the center of tourism, cultural and sports activities of the region.
Avery suitable place !
LA BASTIDE GOURMANDE, Hôtel ***   2 minutes by car
A Provencal style with a 
discreet charm of a provencal building,
Rooms
inviting
to
travel
, a
 secret garden in the shade of palm trees… jacuzzi, swimming pull. Free shuttle on request.
www.labastidegourmande.fr/  mail
 info@labastidegourmande.fr Tél : +33 4 93 22 66 42
La Vague de Saint Paul, Hôtel **** 4km from the gym
4 stars hotel with contemporary design
La Vague de Saint Paul **** invites you to enjoy its bistronomic restaurant, its outdoor swimming pool, its petanque and tennis courts but also its Spa by staying in one of their 50 bright and modern rooms.
Le Mas De Pierre, Hôtel ***** 5 minutes by car
The 'Mas de Pierre' offers the luxury and comfort of a 5 stars hotel. Seven bastides camped in a wonderful setting of a Relais & Châteaux fully in the scents of Provence. Free shuttle on request.
All the activities are proposed by our chief concierge who is at your disposal to advise you and organize your stay.
Free underground parking.
Hôtel Mercure ****
On the beach, 15 minutes from the gym.
The Mercure Villeneuve Loubet Plage 4 stars hotel offers a unique location in the rivierra.
Located in the prestigious area of Marina Baie des Anges between Nice, Antibes and Cannes. Take height on its terrace, around the pool, to admire the panoramic sea view.
Ideal location 15 minutes from Nice and the Côte d'Azur airport.
The hotel was completely renovated in 2017.
800 meters, 7 minutes walk from the beach, 15 minutes from the gym.
In the heart of the French Riviera, this hotel offers 12 spacious rooms with free Wi-Fi. You can enjoy a drink at the bar or on the garden. In every air-conditioned room at the Hotel Restaurant Le Derby you will find a flat-screen TV and a view of the courtyard. They are individually decorated and include an en suite bathroom. Lunch can be enjoyed in the restaurant or on the terrace. A continental breakfast is served every morning in the breakfast area or in the comfort of your room. Free parking is available on site. In addition, you can reach both Nice and Cannes in 20 minutes by car. Nice Airport is a 10-minute drive away. The hotel is also located next to the racecourse of the Côte d'Azur.
email hotellederby@orange.fr
 tel +33 4 93 20 79 20
Camping le Vallon Rouge ***  2 km to the gym, car
 This campsite is an upscale resort offering rentals of mobile homes and cottages near a charming river (Le Loup), in which swimming and other activities are possible.
Restaurant, grocery, swimming pool and animations are at your disposal.
Camping les pinèdes **** 1 km to the gym, car
4 stars Campsite enjoys the bright sun and blue sky, the Mediterranean Sea and the mountains in the background, with a hinterland between the two villages with multiple villages perched on their green hills.
Its family atmosphere, its restaurant and sports and leisure facilities contribute to make this little « tip of Provence » a real paradise for « small » as for « big ».
ROAD TRANSPORTATION
Taxi Olivier.

A

 

welcome

 

and

 

help

 

to

 

organize

 

your

 

stay

 

in

 

our

 

region

.

 

All

 

distances

,

 

visit

 

to

 

the

 

region

,

 

airport

 

transfer

,

 

train station

 

7/7

 

and

 

24/24

Tel : +33 6 11 53 50 89   taxilacolle@gmail.com  WhatsApp

 Gilbert DA COSTA  Tpmr Glc Prestige Spécialiste du transport de personnes à mobilité réduite, notre société réalise tous vos trajets pour aéroports, gares …toutes distances.
---
Summer 2017, the 4th Azur RG tournament should take place !
Registration informations available from here:
International Training Summer Camp 2017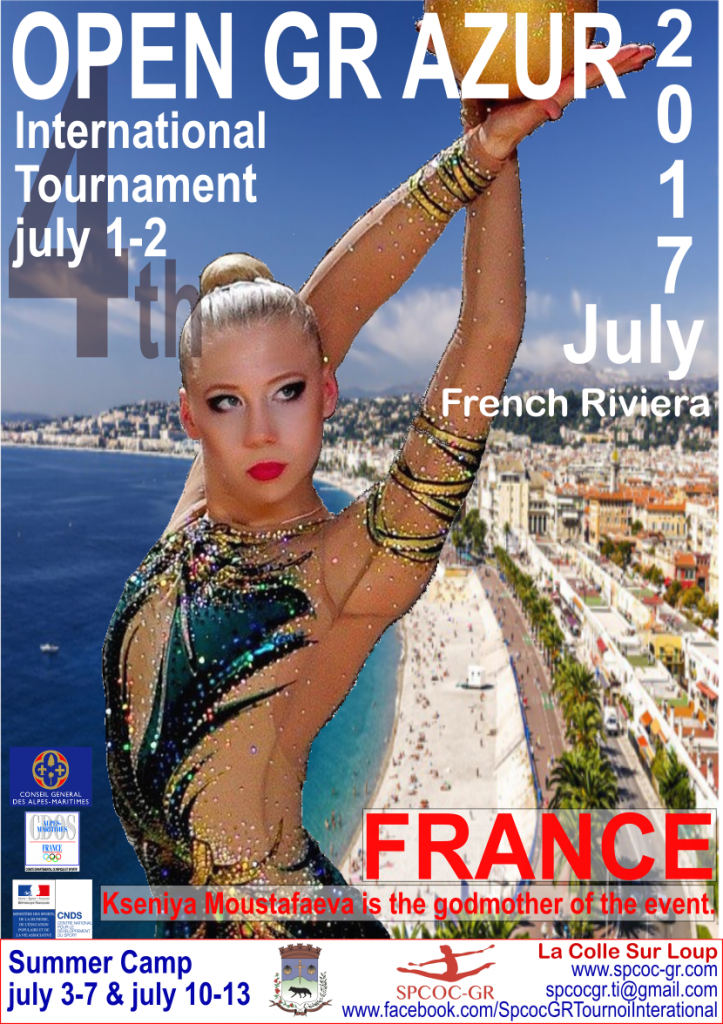 Thank you to all the gymnasts, judges and their delegations for their participation.
See you back in 1 year, on 30/6 – 1st/7
---
Summer 2016, the Stars should be in the French Riviera at LA COLLE SUR LOUP !
The International Tournament Azur will receive the Summer Training Camp.
Thanks to Kséniya Moustafaéva marraine of the Open GR Azur to make Ludmila Dimitrova come with her gymnasts and Daria Kondakova, they will share their Russian trainings all mornings for 2 weeks. And thanks to Bilyana Prodanova that will give bulgarian trainings all afternoons during the same 2 weeks.
Open GR Azur on July 8-9-10
1st week Training on July 1 to 16 
2nd week Traning on July 18 to 22
Ask for your invitation here : spcocgr.ti@gmail.com